Welcome to Alcoholiday BBS!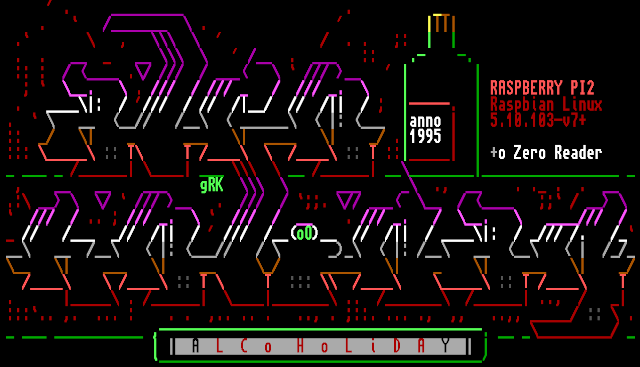 Welcome to the homepage of Alcoholiday BBS, an "old-school" bulletin board system with roots in the mid-1990s.
Latest news and other helpful information on the BBS is located below.
Connect now right here in your web browser, or download a telnet client for the most authentic experience.
Our telnet address is alco.bbs.io, port 23, or port 22 for ssh access.
You can also learn more about the board, or check out a gallery of our features.
Latest News

  From : Zero Reader                         Msg #    : 1 of 1                
  To   : All                                 Msg Date : 04/14/22 16:07        
  Subj : The BBS is back!                    Status   : Local                 
  Base : System News                         Msg Conf : Local Messages   
------------------------------------------------------------------------------  

Alcoholiday is back in business after some extended downtime!
I'm not sure why I ever turned the board off, but it was sometime in 2020 when the world was going to hell and there didn't seem to be much of a point in retro nostalgia. Alcoholiday had been on autopilot for months, and some of my users even offered to run the board for me. But even if it weren't for the pandemic, I'd moved on to other endeavours -- making music, podcasting, re-connecting with old friends, and coping with yet another career change.
If you've ever been a sysop, you know you can't get BBSing out of your blood. I still followed the BBS subreddit and some BBS Facebook groups and saw posts every now and then that piqued my interest.
I started thinking about running a board again a few weeks ago, but sort of filed the feeling away. Then I was out playing disc golf on a beautiful Sunday afternoon when Smooth of Ink/2 hit me up on Messenger and asked me if I'd consider returning to the scene. It seemed like serendipity.
A couple days later I had a stock board running again, and now here we are. Please excuse the mess as I get things back in order!
Long live Alcoholiday, the online cyber keg party!